Contact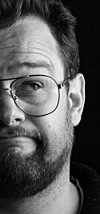 This site is owned & maintained by Chris Hellyar.
I'm an enthusiastic fiddler. That is, I fiddle around with things, I can't play a fiddle, or any instrument for that matter. The things I fiddle with are mainly along the mechanical or electronics line.
Up until 2004 I ran a part time business doing custom control electronics, and making some R/C Accessories for model aircraft. We were even a market leader with a couple of our products back in the late 90's, for whatever that is worth.
Turns out I was more interested in fiddling than manufacturing and I sold part of that business off in early 2004, and closed the rest down not long after.
I live in rural New Zealand. During the day I work as an IT bod. Outside that, I've got so many interests I've lost count. Lately I've been concentrating on photography, some of which can be found on my other website, but don't be surprised if you find a page on this website for topiary, or herbal tea making in the future.

Email is the best option to get hold of me, at chris@trash.co.nz.